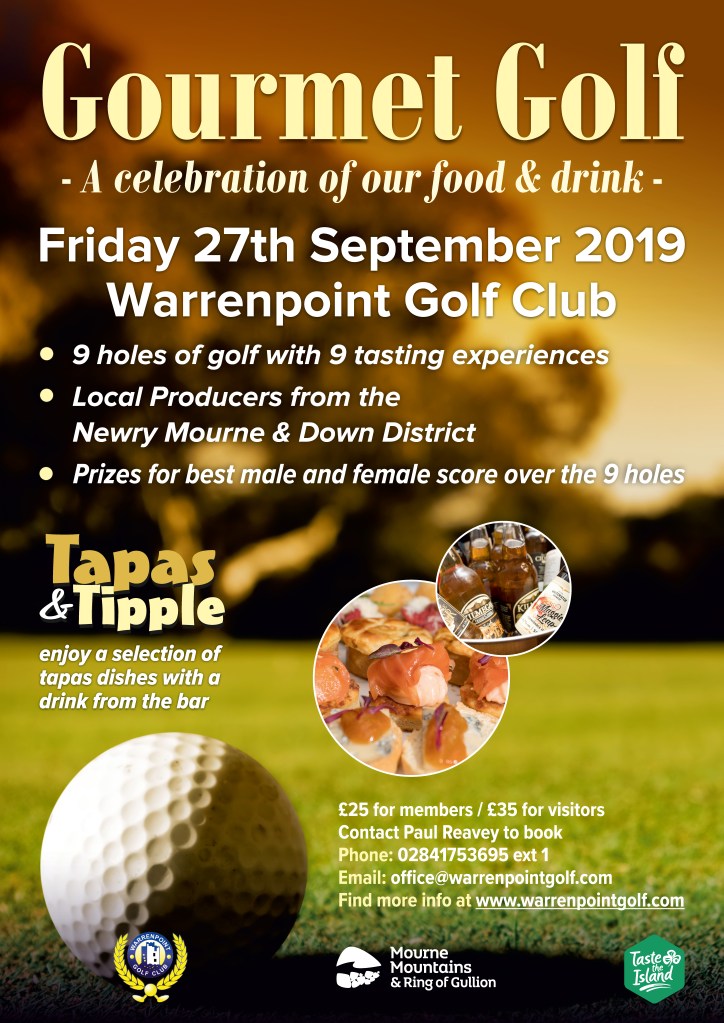 Castlescreen Farm: An organic beef farm with a native Irish breed Dexter herd that are grass fed. Castlescreen Farm aim for trace-ability, ethical and sustainability. Creating full flavored, rich beef, naturally marbled, hung for 30-35 days to intensify flavor and tenderness.
Helens Preserves & Jams: TBC
Kilmegan Cider: Real Irish Cider, hand crafted with the back drop of the majestic Mourne mountains. Kilmegan Cider get the proper blend of apples, extract the juice, ferment and leave to mature for six to eight months and as it is made with 100% fresh pressed juice, believe me – you will taste the difference.
Killowen Gin: Focusing on centuries of Gin making in Ireland, Killowen Distillery place seasonal botanicals to the fore, many of which are handpicked from the immediate locality. The result is an unusual gin celebrating its maritime and highland environment within the Mourne Mountains.
Leafy Green: Leafy Green believe food shapes our health and well-being. They aim to provide a range of healthy plant-based food and drink choices from salads and wellness shots to protein shakes and nourishing soups.
NearyNógs: NearyNógs are Northern Ireland's first and only Chocolate manufacturers.  Ethically sourcing and importing our own Cacao Beans. They hand sort their beans, roast, crack and winnow, stone grind and temper the chocolate.  This process gives them an award winning high-quality chocolate guaranteeing an authentic chocolate experience.
Mourne Mountain Brewery: A homegrown brewery inspired by one of our areas of Outstanding Natural Beauty, they combine water from the Mourne Mountains with the finest barley and wheat malts, hop varieties sourced from around the world, and speciality yeast strains to give each beer its own special character and flavour.
Michelle Crawford's Rock: The super seaweed hand-gathered from the pristine waters around the area called Crawford's Rock is the main ingredient in this range of small batch, hand-made, seaweed products like seaweed shots for juicing and smoothies, seaweed infused oils for cooking and flavoured dipping oils for breads.  
Mange Tout: Mange Tout are multi award winning artisan producers of French patisserie, breads, quiches, pies, traybakes & muffins with a local twist. All their delicious products are hand made on our premises using high quality local ingredients.
Whitewater brewery: Established 1996 on the third-generation family farm amidst the spectacular Mourne Mountain range in the north of Ireland, Whitewater Brewery still retains the passion and desire to brew beers with fantastic flavors and has the largest microbrewery in Northern Ireland and have won many awards for the brew that they supply.